Personal Mobile Banking
Your community bank at your fingertips! Gain access to your accounts through your phone with our Mobile App, Mobile Deposit, Mobile Browser and Text Banking. Scroll down or watch the informational video below to get all the details.
Mobile App
GVB Mobile App
Your community bank at your fingertips! Deposit checks, pay bills and transfer funds with your smartphone using the GVB Mobile App. Fast access to your accounts wherever you are and whatever time of day. Our Mobile App puts secure banking in your hand 24/7.
Use the Golden Valley Bank Mobile App to:
Check account balance
Review recent account activity, including deposited items
Transfer funds
View check images
Pay bills
Change and cancel pending payments
Review minimum amount due and due date of loans
Find ATM and branch locations
Card Valet®
CardValet allows you to turn your debit card "on" or "off" anytime. When they're "off" ... no one can use your card. Turn them "on" when you're ready to use them:
Helps safeguard your card from fraud
Let's you define areas where your card can be used
Limit purchases by the type of merchant
Set limits on the dollar amount
Instant alerts lets you know the minute your card is used
Instantly change your settings, giving you complete control over your debit card right from our GVB Mobile App.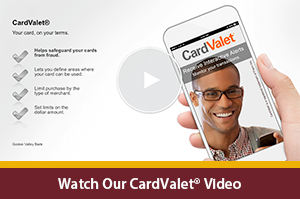 Mobile Deposit
Deposit on the Go
Deposit checks without driving to the Bank by using your GVB Mobile App.
Endorse your check "For Mobile Deposit Only to Golden Valley Bank" along with your signature*
Snap a picture of the front and back of your check
Choose your account
Enter the amount
Submit
Done!
Convenient and secure, the mobile deposit feature is available through your Golden Valley Bank Mobile App. It's easy to use and saves you time from coming into the bank.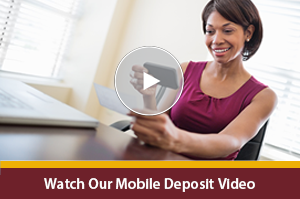 Deposits made prior to 5:30pm PST are same day deposits. Deposits made after 5:30pm PST are next day deposits.
Mobile Remote Deposit is functional on iPhone and Android apps only. Data Rates May Apply. Check with your mobile phone carrier for details. Deposits are subject to verification and not available for immediate withdrawal. Deposit limit $5,000 per item/$5,000 per day.
*Golden Valley Bank reserves the right to reject any deposit for non-conforming endorsement or any reason.
Mobile Browser
View Your Accounts From Any Device
Don't have a smart phone? For devices that support web browsing, visit www.goldenvalley.bank and you can access your online banking through your phone or tablet!
Use the mobile browser service to:
Check account balance
Review recent account activity
Transfer funds
Find ATM and branch locations
Watch video in Education CenterVisit FAQ page
Requirements:
To use the mobile browser service, your mobile device must have an Internet browser and may require a data service plan. You access the Golden Valley Bank Mobile website using the link sent by SMS text message during the enrollment process. Check with your cellular carrier for terms and fees.
Text Banking
Simply Text
No matter what phone is in your pocket, you can get your account information quickly and securely. Simply text Golden Valley Bank's short code and receive transaction history, balances and more.
GVB Text Banking Short Code: 31727
Use the SMS text messaging service to:
Check account balance
Review recent account activity
Find ATM and branch locations
Watch video in Education Center Visit FAQ page
Requirements:
To use the SMS text messaging service, your mobile device must send and receive text messages to and from a short code. Most mobile devices are capable of sending and receiving text messages, so your phone is most likely compatible with Golden Valley Bank Mobile. Please note that some mobile service carriers charge for outgoing text messages or for each message sent and received. Check with your cellular carrier for terms and fees
Community Banking From Anywhere

Golden Valley Bank
Mobile App