Cash Management for Businesses

Golden Valley Bank offers a comprehensive range of cash management solutions for small businesses to help you optimize cash flow.
Convenience
Safe and Secure
Simple and Easy to Use
Guidance when you need it
Merchant Services
Make One Stop Payment Processing a Reality
Simplify your payment processing with Heartland, our local Merchant Services Provider. Expand your company's payment acceptance options with an extensive portfolio of products designed to help you get more value from every transaction.
Golden Valley Bank Merchant Services allows businesses to accept all forms of non-cash payments quickly, securely and cost-effectively.
Payroll
Heartland Payroll Program
A complete all in one payroll program. Heartland Payroll helps with job listings, hiring, employee handbooks and compliance, payroll processing and direct deposit.
Payroll processing
POS intergration/timekeeping (labor management)
HR solutions
Applicant tracking
Tax credit screening
Electronic onboarding
eDeposit (Remote Deposit Capture)1
Manage your bank deposits on your schedule.
Conveniently make deposits, enjoy later deposit cut-off times, and save yourself a lot of time-without ever leaving the office.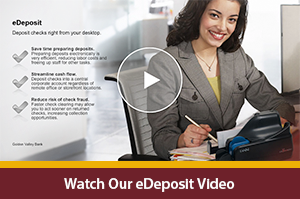 Wire Manager2
Save time by submitting Domestic or International wire transfers remotely.
Receive confirmation and alert emails
Establish Dual Approval

Set limits and restrictions on employees access

View and approve wires on your Business Mobile App4
ACH Manager3
ACH Manager allows you to create electronic payments and collections. It's the cost-effective way to handle routine transactions such as vendor payments, collection of dues and payroll.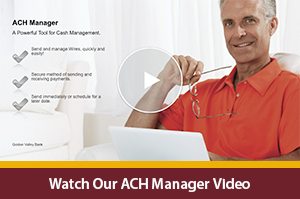 Positive Pay
Fraud Prevention
Reduce Your Risk of Check & ACH Fraud. Protecting your business from potential check and electronic transaction fraud is easier now more than ever with our Positive Pay services.
Check Fraud Detection
The system matches checks presented for payment against a list of checks your company inputs in the system. Checks that are not in the list of authorized checks are presented as an exception to allow you to pay or return.
ACH Fraud Detection
You create rules for electronic items to alert you to potential fraud. Items that do not meet the rules are presented as an exception to allow you to pay or return.
Check & Account Reconciliation
Account reconciliation tools provide a quick way to reconcile your accounts enrolled in Positive Pay. Additional tools for check reconciliation are provided to list the checks that are outstanding, paid or issued.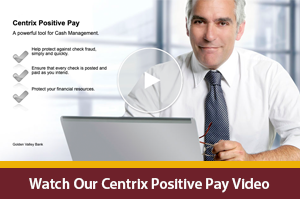 Reporting
A variety of reports are available in various formats.
Any business can utilize Positive Pay
No software is needed
Access Positive Pay through Business Online Banking
Identify potential fraud items quickly preserving your funds
---
2 Wire Fees: Fees will apply for outgoing and incoming wire transfers. Please speak with a bank representative for additional information or refer to the Business Online Banking Service Agreement and current Fees and Charges schedule.
Deadlines: Domestic and International wires initiated by visiting a branch or through other means by 1:00 PM PT, or online by 12:00 PM PT, will be processed that day. Wire transfers initiated after that time (the "cut-off") or during weekends or Federal holidays will be effective the following business day.
3 Subject to approval. Transaction fees may apply. Cutoff time for Same Day ACH is 10 AM PST.
4 Data and text messaging charges from your mobile carrier may apply.
Not sure where to begin?
Our Switch Kit will help you get started on your new accounts! We will be with you every step of the way as you transition to Golden Valley Bank. Talk to a Relationship Banker today.
---
Commercial Loans With Your Best Interests In Mind

Golden Valley Bank is here to help your business grow. Whether it's time for a new building or you just need some cash flowing, our small business loans offer a variety of simple solutions.